We spoke to Surendra Kumar Sharma, one of our PEN members with a long career in international policing. Mr Sharma is a retired Inspector General from India who has extensive experience with police and security reform in several post-conflict countries. In our conversation, he offers some insights into his experiences with policing in a conflict-setting in Afghanistan, as well as his experience of contributing to the ICT4COP project as a PEN member.
Sharma worked in Afghanistan for about three and a half years. He described how, as a Senior Police Reform Adviser with UNDP, they were trying to combine critical development activities with rebuilding the Afghan National Police (ANP).
"Afghanistan was a complex case. The country was experiencing serious violence in several states. Security was a major challenge, besides accessibility, lack of infrastructure, and communication. One has to be a diehard optimist to implement one's mandate in countries like Afghanistan", he said.
One of the several challenges they faced in Afghanistan was the composition of the ANP which was not a trained professional organization but comprised of men and women from various tribes, and backgrounds. The ANP also included ex-combatants and ex-mujahideens who were mostly illiterate and did not have any policing experience or training.
"All they could do was use their AK 47! Drug addiction, indiscipline, and low morale were some other problems, especially with the junior cadre. The bulk of the cadre (privates and non-commissioned officers) owed allegiance to their respective warlords and were on short-term contracts. They were paid salaries through UNDP. Very few had received police training."
"What we tried to do was work around these challenges and support the ANP in fulfilling their basic function to safeguard the life and property of the people of Afghanistan. There were young men and women who had potential and wanted to become professional police personnel. Our goal was to leverage their talent and implement projects that could be accepted and sustained by the Afghan people."
Elaborating further regarding challenges, he mentioned that the frequent change of command, both at the political and professional level, further impeded the successful implementation of even approved projects.
"At the ministry level, people were changed almost every 6 months. There was no proper chain of command. The Minister's writ perhaps ran only within the Ministry. It was not uncommon to see the states doing their own thing."
Surendra explained that various international partners, NATO, and UN agencies tried to support the ANP in their own way. The international efforts often lacked coordination which resulted in duplication of effort and huge wastage of resources.
"For example, everyone wanted to train the police... in their own way. The Afghans did not object as it meant provision of costly equipment and free lunches. The political will to channel the international support to meet specific goals, was absent. The political bosses focussed more on the budget allocated by the donors rather than the output and relevance of the international support."
"This resulted in privates, NCOs, and officers being trained without any coordination or planning leading to no tangible improvement in performance and a very confused set of trainees! It was not  uncommon to see illiterate or semi-illiterate trainees attending computer classes and being provided laptops, printers, and sophisticated electronic gadgets, even when they could not even write their own names."
On a broader level, Surendra stated that as police experts, they aimed to improve the country's security scenario and to protect human lives and property, but that there is no 'one-size fits all' approach.
"As police professionals, we were trying to deliver our mandate despite all the challenges."
Surendra mentioned that based on past experience, in the prevailing circumstances, the most appropriate and practical approach to improve community security in Afghanistan was through community-oriented policing.
"Our efforts were focused on bringing the community closer to the police on a common platform where they could meet, communicate, deliberate, and agree to do something practical to solve mutually-identified local security-related problems. What really helped was talking to elders, maulanas, common people, making them realize that working together with the police was in everyone's interest and that everyone has to contribute towards achieving the common goal".
He said they also engaged with the women to find community-oriented solutions to problems specifically affecting girls and women. This not only revealed a different set of perspectives on the challenges facing the communities but also gave the women a platform and a chance to narrate their side of the story and highlight problems they faced which the other members of the community and even the police were not aware of.
Describing their approach to introducing community policing, Surendra touched upon the intricacies involved in implementing community-oriented policing in the Afghan context.
"In community policing, the aim is to get the police and people to work together as partners towards the common goal of improving security. However, it is a complex issue as political affiliations, vested interests, and lack of commitment from the police for fear of dilution of their authority often posed serious challenges. Experience of the team is critical to move the process forward."
He explained that challenges are contextual and unique to each country and require different approaches to achieve the set goals. However, experienced police professionals can draw on their experiences from various other countries and scenarios and find solutions which can be applied successfully in the given context. As a PEN member, he used this insight and his experiences in Africa and Asia, including Afghanistan, to contribute to the ICT4COP project.
"In the last ICT4COP seminar, we discussed how certain lessons from post-conflict scenarios in Africa could be applied to deal with the complex situation in Afghanistan."
He also emphasized how, from their diverse backgrounds and working experiences, PEN members could better understand different approaches and best practices to deal with challenges faced in post-conflict environments.
"We all came from different countries, cultures, backgrounds and training, and most of us have worked in different countries so we have a good combination of practical strategic, operational and tactical experience.  This helps in understanding the challenges in post-conflict environments and finding suitable approaches to deal with them."
Surendra mentioned that sharing experiences with each other was a great learning experience for both himself and the other PEN members.
"You can draw on the experiences you have and listen to others and learn what they have done in their own countries and in places where they have been deployed, and see how lessons learnt and best practices can be applied to address specific issues in a particular scenario. Working with experts from various countries was great. We exchanged ideas, discussed solutions and immensely benefitted from each other's experience both for implementation of our mandates and as professionals."
"I think the more you are exposed to and discuss issues with people who are experts in their fields, the better you will be equipped to deal with complicated issues which you are likely to face when deployed in challenging situations in a post-conflict scenario."
To read more about the ICT4COP project's insights and findings from Afghanistan, click here, here and here.
Fakta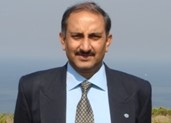 Surendra Kumar Sharma,
Rule of Law/Security Sector Expert
Inspector General (retired) Surendra Sharma, worked as UNDP Chief Technical Adviser to Minister of Interior, Inspector General of Police, Director General Prisons in South Sudan for over three and a half years on institutional development, police and prison reforms, capacity building and integrated and harmonized approach to transformation of the security sector.  As Chief of UN Police Reforms and Restructuring for seven years , he was  strategic adviser  to UN Police Commissioners in UNMISS, UNMIT, and UNMIS  on policy, police professionalization, institution building, civil military coordination, donor coordination, election security, resource mobilization and confidence and trust building strategies. He also served as UNPOL Sector commander in UN Mission in Mozambique.
In his tenure of over 15 years with UN as a senior Police professional,  he has pioneered several projects to initiate transformation ( first Emergency Call Centre in South Sudan,  setting up of Joint integrated police in Abyei and South Sudan), promote accountability (police registration, ID cards, payroll, asset management), community involvement in security (community policing models in Sudan and South Sudan) security of vulnerable groups, especially women and children (special protection units), to bring a gender sensitive approach to security reform and peace building initiatives. As Adviser to the DG Prisons, South Sudan, he played a key role in the establishment of the first vocational training workshop for skill development and rehabilitation of prisoners. He played a leading role in supporting registration, issue of ID cards, payroll computerization and capacity building of prison staff and publication of the first Inmate Statistics Report in South Sudan. As Senior Security Sector/Rule of Law Expert with UNDP Afghanistan, Surendra worked for about three and a half years with the Afghan Ministry of Interior, NATO and international partners, to initiate several projects focusing on community security involving community participation, especially women and vulnerable groups, development of critical security infrastructure and capacity building of Afghan Police.
Prior to joining UNDP in 2013, Surendra served as Inspector General, in the Indian Border Police and commanded two of the most sensitive frontiers on the international border.  He has over 32 years of experience in all aspects of police work, institutional and individual capacity building of security institutions, networking and infra-structure development.  He has held senior command positions in Kashmir and North East in India and has first-hand experience of counter insurgency operations. A qualified instructor, he served as Training Coordinator in the national Border Police Academy in India. An acknowledged expert in non-lethal munitions, he pioneered the development of several new non-lethal munitions. He also headed the Disaster Management Training facility of his organization and is a qualified instructor in disaster management.
Surendra holds a PhD in life sciences and a Bachelor's degree in Law besides having undergone several specialized trainings in various subjects, both at home and abroad.