The Writing Center offers free guidance in academic writing for bachelors, masters, and PhD students at NMBU. Friendly and well-trained peer writing advisors are available to help you throughout the writing process, from note-taking and outlining all the way to final revisions. 
The Writing Centre also offers lectures and other forms of academic writing training. These are open to all study departments and can be incorporated into many courses, programs, and events. Contact writingcentre@nmbu.no or niklas.pettersen.mintorovitch@nmbu.no for more information.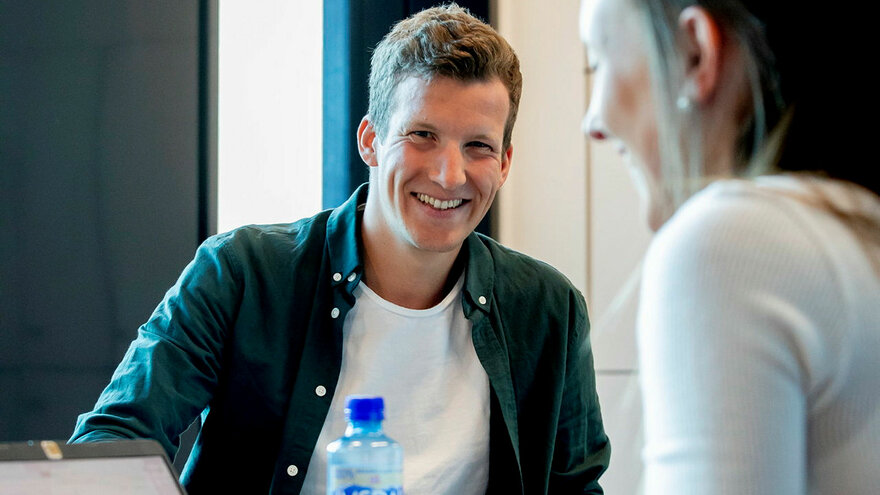 Contact us:
Visit us:
Monday: 12.00-16.00

Tuesday: 09.00-16.00

Wednesday: 09.00-16.00

Thursday: 09.00-16.00

Friday: 09.00-13.00

Monday: CLOSED

Tuesday: 12.00-16.00

Wednesday: 09.00-13.00

Thursday: 12.00-16.00

Friday: 12.00-16.00
Follow us here!
Book an appointment by clicking here (maximum 1 hour per day, appointments cannot be booked more than two weeks in advance).
Choose the appointment type that best suits your study level, language, and needs.

NOTE: You must select "digital" if you intend to have an online appointment.
3. Check the schedule below to see if your writing tutor is located at the Veterinary Building or Sørhellinga.
You can also try a "drop in" appointment by visiting one of our locations during opening hours; if free, an advisor will gladly meet with you.
We offer advice and guidance in statistics. You can get help with experimental design, data processing and analysis, as well as interpretation and presentation of results.

All master students at NMBU are welcome to book an appointment.

Click on this link to book an appointment.

The service is located at the Veterinary Building (LS1001) and is offered by the Bioinformatics and Event Statistics (BIAS) research group at the Faculty of Chemistry, Biotechnology and Food Science (KBM)
Volume 12 of the NMBU Student Journal of Life Sciences has now been published digitally!

The NMBU Student Journal of Life Sciences Volume 12 is a collection of twelve peer-reviewed articles and two digital stories from diverse and interdisciplinary research, reflecting the various student voices at NMBU. All articles are carefully reviewed by the Review Board and edited by the Editorial Board together with the respective authors. To make the journal come alive, student artists have contributed with their stunning photographs and artwork. Finally, the layout and design team have done an exquisite job building the Student Journal. 

Thank you to the authors and the whole publication team for all your time and efforts.

We hope you enjoy Volume 12!

Photo: Ruben Rygh
Are you interested in working as a writing advisor?

At the end of each academic year, NMBU's Writing Centre looks for new students to work as Writing Advisors. Writing Advisors not only help peers with academic writing through feedback – both online and in-person – they also develop their own writing and research skills.

We are interested in recruiting Writing Advisors that can assist in Norwegian, English, or, ideally, both languages. Training is provided. Writing Advisors typically can expect to work within the Writing Centre for eight hours a week. Potential candidates must be NMBU students and should have:

-          Good communication skills.

-          Experience in academic writing.

-          High level written English and/or Norwegian language

-          High acadmic performance

-          Desire to help others develop their scholastic skills

It is also prferable for the applicant to have passed MTH300, LNG250, or to have completed another academic writing course.

If you are interested in joining our team of professional students, please complete our application and reference forms. In addition, we ask that you to submit the following:

-          A cover letter

-          A resume (with references)

-          Diploma

-         A sample of your academic writing (term paper or part of thesis.)

Submit the application to: writingcentre@nmbu.no before June 1st.