Beginning of October, the bi-yearly Adaptation Futures conference on climate change adaptation brought together more than 2000 researchers, practitioners, and policymakers from over 120 countries.
During the conference, Professor Bronwyn Hayward led a session on urban climate resilient development with NMBU Professor Siri Eriksen involved in co-organizing. Researchers and urban policy practitioners from four different urban contexts of Norway, India, South Africa, and New Zealand were invited to share their reflections and insights – including TOWARDS' contributor Simon Roy, climate change coordinator for the Follo region in Norway.
Urban climate resilient development
Defined by the Intergovernmental Panel on Climate Change (IPCC) AR6 Working Group II report, climate resilient development refers to an approach that integrates adaptation and mitigation measures to advance sustainable development for all. The IPCC report highlights several enabling conditions (including enhanced governance capacity, access to financing, inclusive decision-making processes that prioritize risk reduction, as well as equity and justice, and accessing to multiple forms of relevant knowledge), that support a shift towards sustainable climate resilient development pathways. Every increment of warming, however, limits the options available for climate resilient development.
Since the IPCC WGII AR4 report (p. 78) first recognised that 'synergies exist between adaptive capacity and sustainable development', and that 'societies which are pursuing a path of sustainable development are likely to be more resilient to the impacts of climate change', there has been a call for a 'learning by doing approach' to understanding the factors that contribute to these synergies which has gained momentum, in the AR5 and now AR6 reports. However, the climatic dimensions to consider and the enabling conditions significantly differ by context. Implementing a climate resilient development approach in practice also remains a challenge.
The researchers and policy practitioners working in diverse urban settings across the globe presented their reflections and insights on the opportunities and challenges encountered within their own urban planning context. Speakers included Prof. Minal Pathak and Shwetal Shah (India); Drs Nick Simpson, Albert Ferreira, and Kayleen Simpson (South Africa), Prof. Bronwyn Hayward and Di Rossiter (New Zealand) and NMBU Prof. Siri Eriksen and Simon Roy (Norway). The panel discussants were Prof. William Solecki (USA) and Dr. Debora Ley (Central America).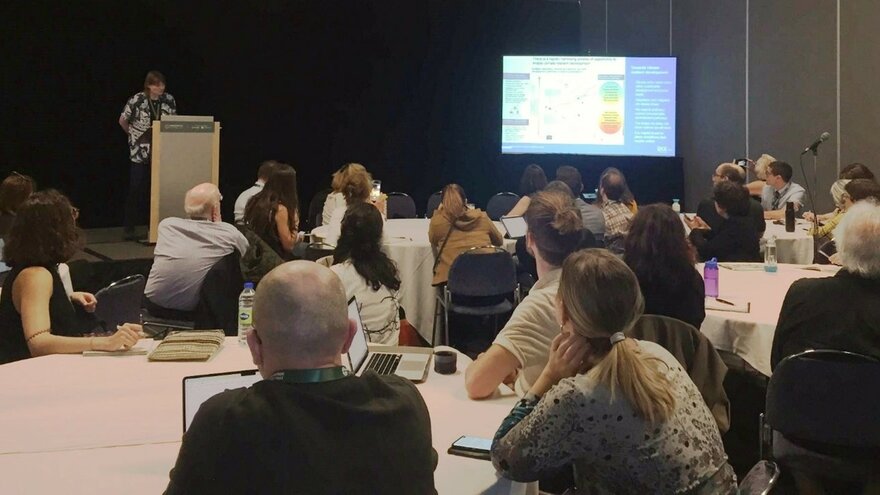 Four diverse urban contexts
Joining from the cities of Ahmedabad in India, Cape Town in South Africa, Westport city in New Zealand and the Follo region in Norway, the speakers highlighted the interacting climatic, socio-political, and economic conditions that climate change planning efforts must respond to and prepare for.
Associate Prof Minal Pathak and policy practitioner Shwetal Shah for instance stressed the record number of days above 40 degrees experienced last year in Ahmedabad, India. Extreme heat critically hinders working conditions for some of the city's most vulnerable groups such as street vendors and construction workers. People living in low-quality housing with poor ventilation are also significantly exposed, in addition to air pollution in the context of high population density. Ahmedabad's action plan includes an early warning system, raising awareness among the public about heatwaves, capacity building of healthcare professionals and measures to reduce heat exposure and enhance adaptive capacity. Nature-based solutions such as oxygen parks and lake restoration are also in the making but would need to be scaled up.
Such interventions will be increasingly important globally given the IPCC's projected increases in heatwaves affecting cities and the public health consequences, particularly for those working outdoors, pregnant women and the elderly.
In Cape Town, South Africa, the water crisis brought about by the Cape Town Drought reached its peak in 2017-2018 and necessitated swift and transformative responses. Speaking about lessons learned by the city from the drought and COVID-19 responses, policy practitioners Albert Ferreira and Kayleen Simpson stressed the importance of considering the social patterns of vulnerabilities in development planning as well as the emerging need to use data to understand when water thresholds are crossed in different parts of Cape Town. Cape Town's planning priorities also include energy supply and enabling rapid energy transition towards renewable energy as a response to the important electricity downtimes experienced in the recent past.
The town of Westport, New Zealand, lies in a floodplain and is highly exposed to multiple climatic risks, among which is a high risk of coastal flooding. The social context is also characterized by a low-income population and a history of socio-political marginalization which need to be taken into account to avoid maladaptation. The area's climate and natural hazard risk profile is highly complex and widespread across the surrounding region, and significant additional funding will be required to fill the area's significant hazard modelling and data gaps. Policy practitioner Di Rossiter also explained that the municipality faces the challenge of transforming the local economy in line with mitigation requirements as well to achieve equitable adaptation and long-term prosperity.
Finally, Simon Roy, highlighted the context of the Follo region in Norway. Constituted by six municipalities in the south of Oslo, the region's largest source of direct emissions comes from people commuting. A large part of climate planning is thus targeted at enabling sustainable mobilities through connecting urban areas, while developing an ambitious land use strategy that supports biodiversity. Severe weather events such as the recent Storm Hans, which led to flooding and caused significant damages across the country, compound the challenges in Norway.
But severe weather events may also help to make the case to decision-makers of the need for more investments in climate actions.
Working for sustainable urban climate resilient development pathways
Across the urban contexts, limited funding available figured predominantly among the recurring challenges mentioned. Decision-makers may be reluctant to invest upfront, budgets are often centralized which constrains municipalities and, in some contexts, there is a low tax base to draw from. Limited institutional capacity was also mentioned as a key barrier. Planning for sustainable urban climate resilient development pathways necessitates transforming roles and governance processes. For instance, to bring different programs and departments together. But crisis moments may open windows of opportunities for transformation.
The relevance of the climate resilient development approach and its focus on integrated planning and key emphasis placed on equity was also highlighted. Social inequalities were stressed as one of the key dimensions to consider within planning processes. Cities are also spaces of fast-changing and diverse social aspirations and lifestyles. Ensuring citizen participation in planning and development processes is a central enabling condition for making climate resilient development happen.
After the initial presentations, Dr Debora Ley from the United Nations Economic Commission for Latin America and the Caribbean and Prof. William Solecki summarised the findings and compared with examples from the Americas. Dr Ley reflected on Central America cities and the contextual challenges that need to be considered, especially facing more intense and frequent hurricanes and heat waves. Facilitating sustainable climate resilient development pathways also faces the difficulties of linking efforts across scales, for instance in integrating local equity considerations into national level adaptation plans. Governance and institutions remain a challenge, as was shown in the other case studies. Prof. William Solecki noted the sense of commitment, innovation, and the recognition of the need for multiple knowledges that transpired in all presentations.
Further strengthening connections between individuals and institutions to connect the silos, access to climate finance, and scaling up and accelerating the pace of responses are key for climate resilient development – this session being only the beginning of the conversation!