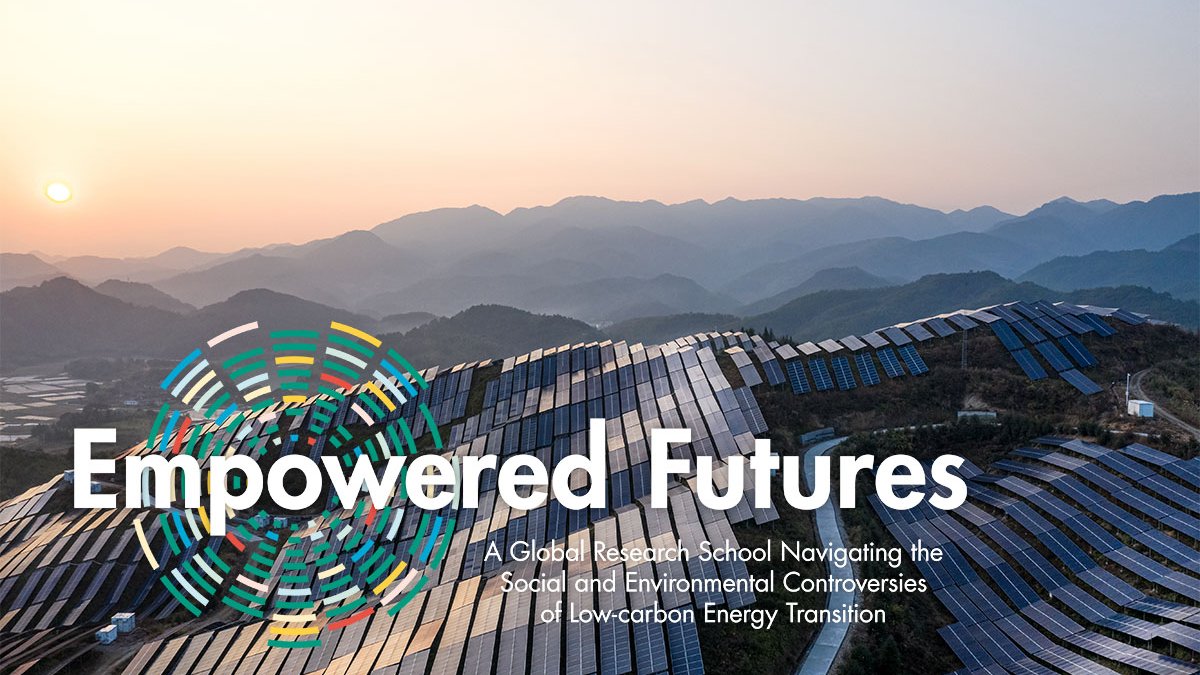 Empowered Futures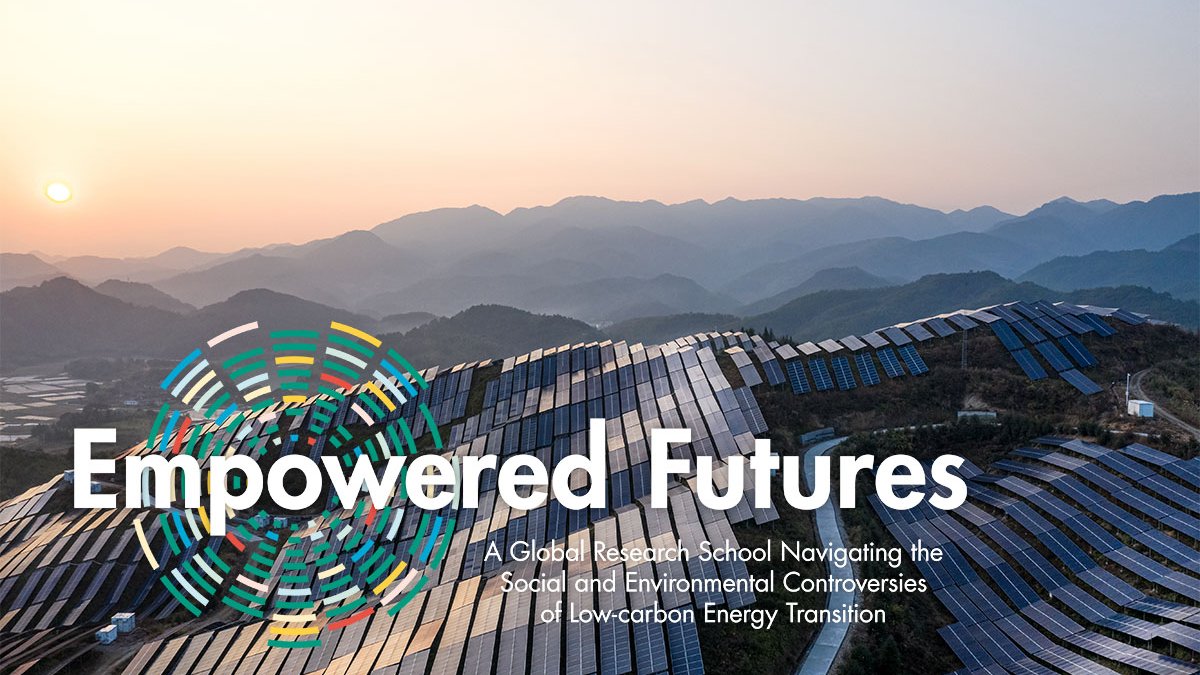 Aims of the research school

The aim of Empowered Futures is to significantly strengthen the societal and professional relevance of doctoral education by addressing the social and environmental controversies of low-carbon energy transitions. In this PhD school, key research environments in Norway join forces to educate scholars of the future in energy social science.

The Faculty of Landscape and Society at the Norwegian University of Life Sciences (NMBU) will work together with multiple academic and societal partners to form an innovative, collaborative and international state-of-the art research school.

Empowered Futures enables a coordinated and unique platform for collaboration, knowledge sharing, joint courses and activities with governance and business partners. The School targets a broad range of social scientific PhD candidates with a specific interest in building careers (in research, business, consultancy and the public sector) geared to both critically explore and empower energy transitions, and to enable workable and just pathways through the controversies they generate.

An overview of the purpose and aims of Empowered Futures.
Apply for membership

Join the first cohort of Empowered Futures

The Empowered Futures PhD School 2022-2030 is pleased to announce a call for its first 3-year cohort of PhD and postdoc fellows. Members undertake to complete at least one PhD course, and take part in at least two other activities, such as a training workshop, practicum, policy roundtable, or study tour. The call is open until 31 October 2022. 10 PhD and 4 Postdoctoral Fellows will constitute the first 3-year cohort. This annual call opens five more times, until 2027, on similar dates. Membership carries both rights and obligations for a 3-year period. Those who fulfil all the criteria will receive a certificate of completion. 

Who can apply?

PhD or Post-doctorate Fellows in the first 18 months of their PhD or postdoctoral fellowship as of 31 October 2022, whose research interests are within energy / renewable energy and/or low-carbon energy transition.

Benefits of membership

During their 3-year term, members are offered preferential access to activities: PhD courses, training workshops on communication and impact assessment, internships, practica, policy roundtables, and study tours. All of the activities are fully financed by Empowered Futures. Grants will be made available to members of the School to assist with funding travel and accommodation. Members join a network of PhD and postdoc fellows as well as national and international faculty and partners associated with the PhD School. We will help to facilitate continued contact between members as an alumni network. We will actively respond and promote the interests and output of all members. Opportunities will be created for candidates to write and co-publish together, and where when feasible, with the experts connected to the school.

Selection criteria

The committee will select candidates based on the following criteria: (1) thematic fit to the scope of the researcher school, (2) the potential benefit to the applicant of participation in the researcher school, and (3) academic quality of the submitted material.

Deadlines

The deadline for submissions to the first 3-year cohort has now passed. A selection committee formed by the 5 university partners will meet on 1 December 2022. Selected applicants will receive an offer of membership shortly after. A new call for candidates will be made in 2023.
School news
Events 2022
Events 2023

PhD Course: Labour, Energy and Place
UIO, FNI, Solar Punk Academy. To be held in Rjukan, Norway.
01 Apr 2023
2nd Quarter of the Year
01 Apr 2023

3rd Quarter of the Year
01 Jul 2023
Impact Assessment Workshop
3rd Quarter of the Year
01 Jul 2023

4th Quarter of the Year
01 Oct 2023

Testing Research Methods in an Institution. 4th Quarter of the Year
01 Oct 2023

Internship at Multiconsult
4th Quarter of 2023 to 1st Quarter of 2024. Supported by NMBU
01 Nov 2023
Blogs, podcasts and op-eds
Recommended reading

Edited by Håvard Haarstad, Jakob Grandin, Kristin Kjærås, and Eleanor Johnson. UCL Press 2023

What does it mean politically to construct climate change as a matter of urgency? We are certainly running out of time to stop climate change. But perhaps this particular understanding of urgency could be at the heart of the problem. When in haste, we make more mistakes, we overlook things, we get tunnel vision. Here we make the case for a 'slow politics of urgency'. Rather than rushing and speeding up, the sustainable future is arguably better served by us challenging the dominant framings through which we understand time and change in society.

John-Andrew McNeish. Berghan June 2021

Sovereignty is a significant force regarding the ownership, use, protection and management of natural resources. By placing an emphasis on the complex intertwined relationship between natural resources and diverse claims to resource sovereignty, this book reveals the backstory of contemporary resource contestations in Latin America and their positioning within a more extensive history of extraction in the region. Exploring cases of resource contestation in Bolivia, Colombia and Guatemala, Sovereign Forces highlights the value of these relationships to the practice of environmental governance and peacebuilding in the region.

Judith Shapiro (editor), John-Andrew McNeish (editor). Routledge 2021.

Our Extractive Age: Expressions of Violence and Resistance emphasizes how the spectrum of violence associated with natural resource extraction permeates contemporary collective life. Chronicling the increasing rates of brutal suppression of local environmental and labor activists in rural and urban sites of extraction, this volume also foregrounds related violence in areas we might not expect, such as infrastructural developments, protected areas for nature conservation, and even geoengineering in the name of carbon mitigation.
Partners and Advisory Board

PARTNERS

Academic Partners:

Faculty of Landscape and Society (Norwegian University of Life Sciences)

INCLUDE Research Centre for Socially Inclusive Energy Transition (University of Oslo)

Centre for Climate and Energy Transformation (University of Bergen)

Sustainability Transformation programme area (University of Stavanger)

Department of Global Development and Planning (University of Agder)

Societal Partners:

ADVISORY BOARD

Benjamin Sovacool, University of Sussex, UK
Adrian Smith, University of Sussex, UK
Gisa Weszkalnys, London School of Economics, UK
Gordon Walker, Lancaster University, UK
Ingmar Lippert, Brandenburgiche Technische Universität - Berlin, Germany
Timothy Moss, Humbolt University - Berlin, Germany
Lina Dencik, Cardiff University
Mette High, St. Andrews University, Scotland, UK
Nathalie Ortar, ENTPE France
Simone Abram, Durham University, UK
Lars Kåre Grimsby, Norwegian University of Life Sciences
Erling Holden, Norwegian University of Life Sciences
Samuel Adamarola, Norwegian University of Life Sciences
Laura Tolnev Clausen, University of Agder, Norway
Kjell Overåg, University of Agder, Norway
Hans Kjetil Lysgård, University of Agder, Norway
Societal partner profiles

Fridtjof Nansen Institute 
 
The Fridtjof Nansen Institute (FNI) is an independent foundation engaged in research on international environmental, energy and resource management politics and law. The overall objective of FNI is to understand the underlying forces in international environmental and resource politics, and on that basis make well-founded contributions to political solutions to problems in these areas. 
  
FNI carries out research on the energy transition in Norway, Europe, and other world regions, and is a member of the University of Oslo's INCLUDE research center on achieving a just energy transition. 
  
FNI researchers offer expertise on climate and energy policy, opposition to renewable energy projects, and global environment and climate governance. FNI, along with University of Oslo (UiO) and Rjukin Solarpunk Academy, will plan Empowered Futures' first PhD course to be held in Spring 2023. Throughout the partnership, FNI will also contribute to policy roundtables, impact assessment workshops, communication workshops, and practica for Empowered Futures members.   

Multiconsult  

Multiconsult is one of the leading engineering consultancy firms in Norway. The firm offers multidisciplinary consultancy services to public and private clients worldwide, especially in the renewable energy sector. Multiconsult is involved in a wide range of services including strategic energy sector planning to project feasibility studies and environmental impact assessments to construction supervision and project audits and evaluations. 
  
Multiconsult's involvement in the entire cycle of renewable energy projects has provided exposure to the many dilemmas faced by project developers, governments and civil society in the locations targeted for hydro, wind, solar and power transmission developments. Whilst the firm's role is typically to generate knowledge for well-informed decision-making, it acknowledges that the professional integrity of consultants can sometimes be challenged and be subject to public scrutiny. 
  
Multiconsult and Empowered Futures believe that the practical experience of Multiconsult's large team of renewable energy consultants can serve as a valuable asset to the research school. It can offer training and internships to PhD candidates and hopes to also benefit from the academic research that will be undertaken. By bringing together such a variety of stakeholders from the public, private and university sectors, Multiconsult and Empowered Futures believe that better practices can be developed, both in research and management, for a more sustainable low-carbon energy transition. 

Rjukan Solarpunk Academy 
 
Solarpunk is a visual representation of ideas that communicates knowledge between academic research and art. Art can inspire differently than traditional research, and artists can help generate new ideas in these times of environmental crises. Artists are a crucial resource for imagining innovative solutions to the most urgent questions around us. 
 
As part of an artistic-academic collaboration with Empowered Futures, arts collective Rjukan Solarpunk Academy will organize a biennial Solarpunk Arts Festival starting from the summer of 2023. The festival will take place in the unique setting of Rjukan, home to the Sun Mirror - arguably the most famous solarpunk art piece ever made. A big part of solarpunk is using technology to improve a sustainable life. The Sun Mirror runs on solar and wind power and is thereby self-sustainable and works in harmony with nature. 
  
The Solarpunk Arts Festival will have four editions in the next eight years, each with a different theme derived from Empowered Futures research. In collaboration with different artists, the festival showcases the research around low-carbon energy transitions and opens up questions around sustainability in new ways. Each art piece included in the festival will originate from questions surrounding the research and therefore act as a method of communication that makes science more accessible to wider audiences. Rjukan Solarpunk Academy will also host PhD courses for Empowered Futures members. 

Sola kommune 
 
We are delighted to partner with Sola kommune (Sola Municipality) as part of Sola's climate and environmental plan to address business cooperation on the green shift. Sola municipality is a national hub for the oil and gas industries, therefore it is important to build a bridge from these industries towards the green shift in the region. Sola recognises the challenges faced between rhetoric and practice and the importance of establishing a knowledge-based response. 
 
As part of Empowered Futures, Sola Municipality plans, amongst other things, to hold lectures on the municipality's ongoing work related to climate and energy. Sola will also arrange internships for candidates involving local case studies related to climate and energy issues. 
 
Sola envisions that through cooperation with Empowered Futures, PhD education will become more relevant for the society in the Northern Jæren region, by training candidates to reconsider questions and renew understandings in the light of sustainable social development. Generating a network of competent researchers will be to the benefit of the labour market in the strong commercial municipality of Sola, as well as throughout Norway and beyond. As a valued partner, Sola kommune will organise policy roundtables and offer practica and internships to Empowered Futures members.  

Statkraft 

Statkraft is one of Europe's leading renewable energy companies, and globally, with investments in wind, solar, hydropower, and new energy technologies. Statkraft has been generating renewable energy for more than a century, primarily through the abundant resource of Norwegian hydropower. The Company is now committed to the shift to a de-carbonized society as well as to maintaining a sustainable business model. Over the next decade, Staktraft is determined to use its business to accelerate the transition to renewable energy, while also using its expertise to help with adaptation efforts.  

Statkraft has met numerous challenges in seeking social acceptance and environmental sustainability while managing the development and expansion of new energy technologies. Statkraft's robust internal management system, The Statkraft Way (TSW), outlines policy and guides all actions, including social, environmental, and ethical decision-making and implementation. Dialogue with stakeholders, benefit-sharing, and sustainability are at the core of Statkraft's way of working. Climate policies have a large impact on Statkraft, and the Company follows national, European and global climate policy development closely to assess their impact. Statkraft also invests significant resources in market analysis to have a robust basis for future investment and operation decisions. 

Statkraft's 100+ years of experience in the Nordics developing, constructing and operating hydropower plants and over 25 years of experience with other renewables, energy services and energy trading globally, provides a wealth of research resources and industry knowledge. As a valued Empowered Futures partner, Statkraft will be instrumental in organising policy roundtables, practica, and internships for members. 

Vestland fylkeskommune 
 
Vestland is situated on the west coast of Norway, with a population of 630 000 throughout its 43 municipalities. Vestland's vision is one of innovation and sustainability. It aims to continue to be an important host to value-creating businesses while being a driving force for sustainable development. 
 
Vestland has high climate change mitigation and adaptation ambitions on its path towards a sustainable climate and energy transformation. The decisions regarding sustainability targets on both a local and global scale must also offer a just transition. Vestland addresses the interconnected climate and nature crises accordingly. Energy transformation and climate footprint reduction actions must also ensure sustainable land use planning and conserve or reconstruct the very basis of our existence, our ecosystems. This level of complexity is new and challenges priorities on many levels. 
 
Vestland is an important community developer; the largest producer of renewable energy in Norway, with many businesses eager to take part in the energy transformation. The potential to produce more renewable energy is great, but challenges exist, for example in distribution. By partnering with Empowered Futures, Vestland can further develop the region in a sustainable direction where social and environmental controversies and consequences become part of the bigger picture. Candidates can look upon this as an opportunity to integrate science, regional development, and politics as a change agent towards a low-carbon society.  Members can benefit from the PhD course, policy roundtables, and internships offered by Vestland fylkeskommune throughout the partnership.   
Research School Leadership

School Board (2-year term)

Private sector:

Stephen Sparkes, Statkraft
Margrethe K. Brekke, Rjukan Solarpunk Academy

Public sector:

Ståle Undheim, Sola Kommune

PhD Fellows:

Anna-Sophie Hobi, Norwegian University of Life Sciences
Vegard Solhjeim Knutsen, University of Agder

University partner board members:

Mikaela Vasstrøm, University of Agder (Board Leader)
Erling Holden, Norwegian University of Life Sciences
Per Gunnar Røa, University of Oslo
Håvard Haarstad, University of Bergen
Siddharth Sareen, University of Stavanger